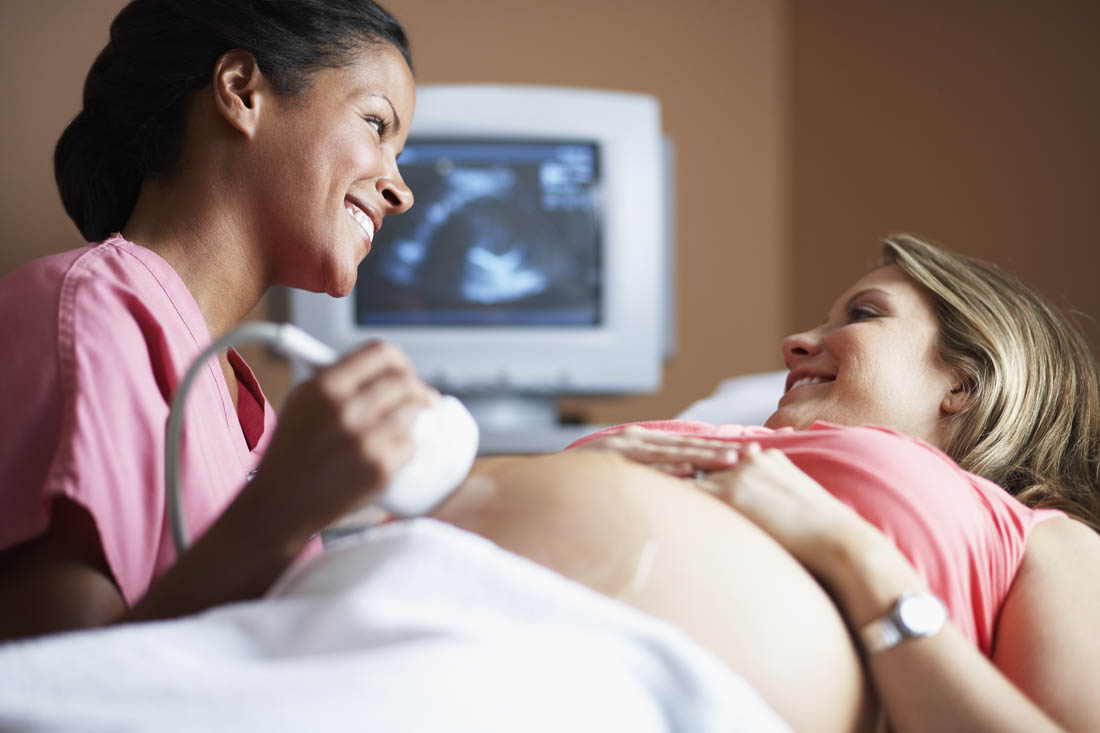 Pregnancy Ultrasounds for Amherst, Buffalo, Tonawanda, NY & Beyond
At our facility, we offer pregnancy ultrasound services and general
gynecological
ultrasound services for patients. If we cannot accommodate a patient's schedule, we will refer our patients to one of the many reputable imaging services in the Buffalo and Tonawanda, NY areas. Having a great set of nurses and doctors to support your
prenatal care
is important, making Suburban Women's Healthcare, PC your place to go to. Trust our staff or nursing practitioners for routine check-ups and pregnancy ultrasounds. Our professional health care workers and female gynecologists give their best attention and care to all of our patients.
Contact
our office in Amherst, NY today to schedule a pregnancy ultrasound!
When Are Pregnancy Ultrasounds Done?
First Trimester
• An early ultrasound is a routine part of prenatal care at 6 to 9 weeks • Determines the gestational age of the baby and estimate a due date • The fetal heartbeat will be confirmed • The number of fetuses will be determined • Ensures that the pregnancy is taking place where it's supposed to (uterus)
Second Trimester
• Occurs between week 18 and week 22 of pregnancy • Routine second trimester ultrasounds are usually done in 2D • Gives a clear picture of the overall health of your baby • Shows how your baby is developing • Determines your baby's sex
Third Trimester
• Occurs between week 24 and week 40 of pregnancy • Checks for congenital abnormalities • Examines the fetus for structural abnormalities • Monitors the levels of amniotic fluid • Determines if the fetus is getting enough oxygen • Measures the length of the cervix
Contact Us to Schedule a Pap Smear Exam and Cervical Cancer Screening
It's never too early to get tested or screened for cancer. At our facility, we prioritize your health to ensure all of our patients consider cervical cancer screening. Women over the age of 30 can test positive for cervical cancer. This cancer is caused by human papillomavirus or HPV. Young women take the HPV vaccine in their teen years to reduce their chances of contracting this cancer. When you reach your mid-twenties, it's recommended to get a pap test or HPV test as a part of the cervical cancer screening process. Cervical cancer screenings offer patients the best chance at finding cervical cancer as early as possible. In doing so, we can discuss early treatment options which can be most successful. Not only that, but these screenings also help discover abnormal cervical cell changes. Finding these abnormalities, or pre-cancers, allows us to treat them before they turn into cervical cancer. Generally, women with cervical cancer do not have any symptoms until the problem becomes bigger. When this happens, women often experience abnormal bleeding, bleeding between periods, longer or heavier periods, pain during sex, pain in the pelvic region, and others. It is important that you do not put off speaking to us when you notice these symptoms as ignoring them could allow cancer to grow and lower your chance for successful treatment. If you or a loved one thinks it's time to pursue a cervical cancer screening exam, please
call our office
today. We proudly provide pap smear exams for the women of Western New York, including Amherst, Buffalo, and Tonawanda, NY.